Our School In Europe
Our school believes that it is important to engender in our boys a sense of being connected to a wider European community. In an increasingly interconnected world, we aim to develop the boys' life skills and competences so that they are ready to take an active part in a 21st digitalised society.
As part of our SESE programme, the senior classes take part annually in the Blue Star programme (www.bluestarprogramme.ie)
The idea of the Programme is to foster better understanding and knowledge of the European Union amongst Irish primary pupils. Students are encouraged to get creative and undertake a programme of tasks and activities in order to introduce participants (pupils, teachers, parents and the wider community) to the EU; what it means and how it works.
Since 2010, the school has had three Comenius Assistants; Anne-France from Belgium (2010-11), Can Emre from Turkey (2012-13) and Teresa from Spain (2013-14). The Comenius Assistantships programme has allowed teachers and future teachers to spend from 13 to 45 weeks as an assistant in a school abroad. Our school community has been greatly enriched by having these three talented and enthusiastic young people in our midst.
From 2012 to 2014, we were very fortunate to be involved in a Comenius Partnership with five other schools from the UK, Sweden, Hungary and Italy. The title of our project was "Europe's Cultural Wealth in Legends, Stories and Myths" and involved travel to and from our school amongst the participant schools. The project helped our boys to become more aware of other countries and cultures, as well as helping them to work collaboratively with pupils across Europe using new digital media. Six boys from sixth class travelled with staff to England for the last part of the project in June 2014.
We will welcome a teacher from Greece in March 2015 as part of an Erasmus + project (https://stepsthrougherasmusplus.wikispaces.com/)and we hope to become involved again with other European schools in the near future.
We also encourage the staff to use the www.etwinning.net portal to communicate and collaborate with schools and colleagues across Europe.
Comenius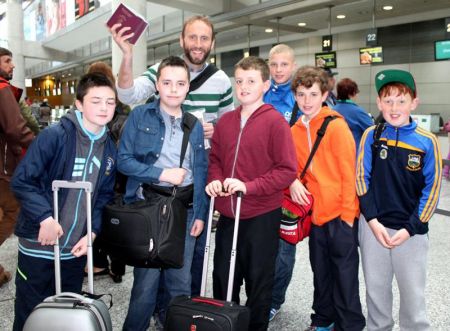 Movie of Comenius Trip to England June 2014